In Pakistan, alleged "blasphemy" results in anti-Christian violence and in calls to repeal blasphemy laws. Washinghton DC subway decides to ban political ads on the Metro after controversy over a cartoon proposed by US anti-Muslim group.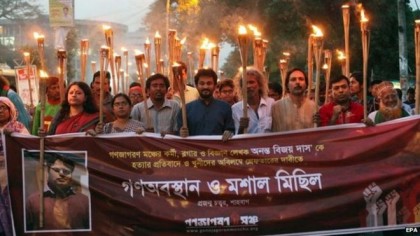 In Bangladesh, another secular blogger fears for his life and the government bans Islamist group accused of blogger attacks. In India, Punjab language department relaunches a "blasphemy" book and hurriedly withdraws the order. Hundreds of youths protest in Kano, Nigeria against a Muslim cleric accused of "blasphemy".
In the UK, former Archbishop of Canterbury Rowan Williams defends "blasphemy" as 'the language of protest'.
This is our seventieth round-up of "blasphemy" news and views from the past seven days. Continue reading »