Polish activists acquitted of 'religious insult' charges
The End Blasphemy Laws (EBL) Coalition welcomes today's court ruling declaring three polish activists not guilty of accusations of 'religious insult'.
Elżbieta Podleśna, Joanna Gzyra-Iskandar, Anna Prus faced charges of "offending religious feelings through public defamation of an object or place of worship," which carries a penalty of up to two years in prison.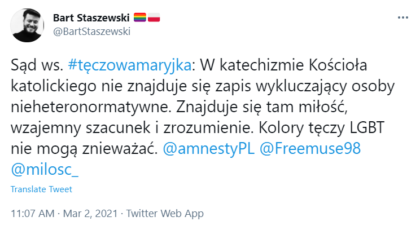 According to a tweet by Polish activist, Bart Staszewski, the court ruled that:
"The catechism of the Catholic Church does not include a provision that excludes non-heteronormative persons. It contains love, mutual respect and understanding. The colours of the #LGBT rainbow can't offend."
Speaking on behalf of the EBL Coalition, Emma Wadsworth-Jones stated:
"This case provides a clear demonstration of how blasphemy laws can and are weaponized against critics of religious authorities and illustrates precisely why blasphemy laws must be repealed worldwide. Precluding the possibility of offending someone's religious beliefs, prohibits critical discussion of religious practices, and leads to the further marginalization of minority groups. Elżbieta, Joanna and Anna were simply exercising their right to freedom of expression. The Coalition welcomes the Plock court ruling, while remembering that these brave activists should never have faced charges in the first place. We call on the Polish authorities to repeal Article 196 of the Penal Code."
The charges followed accusations that the women pasted posters depicting the Virgin Mary with a rainbow halo symbolic of the LGBTI+ flag around her head and shoulders in public places in April 2019 and in doing so had "publicly insulted an object of religious worship in the form of this image with offended the religious feelings of others."  
The prosecution of the activists comes amid the rise of anti-gender movements and some municipalities declaring "LGBT free zones". Media reports indicate that the posters were placed around the city of Plock in response to the exclusion of the LGBTI+ community from society and an Easter display, which featured slogans about crimes and sins, including "gender" and "LGBT" among them.
The EBL Coalition reiterates its calls on the Polish authorities to repeal Article 196 of the Penal Code.