Following quickly on from Malta and Denmark, it now looks like Canada is about to repeal its antiquated "blasphemy" law!
Yesterday (Tuesday 6 June) the Canadian government tabled Bill C-51 (2017): an act to amend parts of the Criminal Code and other laws. One of the objectives of the bill is to remove "obsolete and/or redundant provisions" of the Canadian Criminal Code, including section 296 – which criminalizes "blasphemous libel".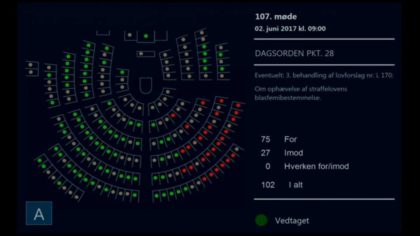 Today, Friday 2 June, the Danish parliament has voted to end centuries of "blasphemy" law!
Rumours had been confirmed earlier this week that the ruling 'Venstre' party would join other parties including the socialist opposition 'Enhedslisten', which proposed the abolition, in voting for an abolition, making this morning's vote more or less a done deal.
The "blasphemy" law was abolished by a majority of 75 – 27.