The week in "blasphemy" news #40
Pakistan's glimmers of hope and long-term challenges, Australia's billboard self-censorship, and Nigeria's warning against "false" 'blasphemy' accusations. In India, Sikh protesters demand use of the country's 'blasphemy' law. In Russia, the Kremlin hits out at Charlie Hebdo. In Egypt, intellectuals hit out at "blasphemy" laws! And in Mexico it's Day of the Dead, to the ire of the Vatican.
Our 40th round-up of blasphemy news and views from around the world.
---
Bangladesh: On this very site, we have a dedicated review of responses in the aftermath of the latest machete murder, last weekend.
Meanwhile, for Index on Censorship, Samira Shackle writes that, "Facing the double threat of extremist violence and state repression, Bangladeshi bloggers daring to speak up for secular values are fighting for their lives".
---
Pakistan: After a string of recent small victories that we've reported at End Blasphemy Laws – including the granting of pre-trial bail to several people accused of 'blasphemy', and the Supreme Court ruling against Mumtaz Qadri – the Christian Post reports (under a somewhat optimistic headline), "Pakistan on Path to Reforming Blasphemy Laws Targeting Christians" (note: Christians are certainly disproportionately affected, though many Muslims and others are arrested or otherwise silenced as well).
"The court's judgment has provided hope to many that Pakistan may actually be able to reform its notorious blasphemy law. For many years, reform to the blasphemy laws was thought to be impossible because of the influence and fear of religious extremist groups in Pakistan. This recent judgement has opened the door for reform," said International Christian Concern's Regional Manager for South Asia, William Stark.

"Now, Pakistan as a society must take the next steps to walk through it. Christians and other religious minorities in Pakistan have historically suffered under the country's blasphemy laws. Disproportionately accused and convicted with little to no evidence, the call for adequate safeguards against false accusations is truly a step in the right direction," Stark added.
But many challenges to reforming the blasphemy law remain, including that those accused are denied the right to a fair trial, through: "intimidation and harassment of judges and lawyers, bias and prejudice of some judges against accused, lack of the right to counsel's assistance, absence of the right to bail and prolonged pre-trial detention, incompetent investigation, and lack of concessions for accused suffering from mental disabilities."
Indeed, Pakistan's 'blasphemy' outrages are very, very far from over: "With undue delays in their trial and the judges reluctant to grant bail, the blasphemy-accused are forced to spend many vulnerable years in jails in isolation…"
Blasphemy-accused in this country face serious threats from extremist elements in the society. Bails in such cases are considered a rare relief. While in jail, the under-trial inmates are vulnerable to attacks from other prisoners and even jail staff because of religious sentiments. Considering the level of threat in the already overcrowded prisons, the jail authorities have no other option but to put these blasphemy-accused inmates in isolated cells.
---
Australia: Billboards intended to promote atheist author Sam Harris' upcoming Think Inc. tour of Australia have been blocked by advertisers:
…APN Outdoor rejected the ads, stating that they do not comply with the Outdoor Media Association's code of ethics, which prohibit material that vilifies religion.

One of the ads mocked the ritual of communion wafers, and stated: "Jesus Christ — who, as it turns out, was born of a virgin, cheated death, and rose bodily into the heavens — can now be eaten in the form of a cracker."

Another ad taking aim at Islam read: "We are now in the 21st century. All books, including the Qur'an, should be fair game for flushing down the toilet without fear of violent reprisal."
Think Inc. said in a Facebook message that it "strongly disagrees" that its ads are in breach of the code.

"We would like to publicly state that with them it is not at all our intention nor our mission to promote what has been perceived by APN as any kind of vilification, discrimination or bigotry towards any specific social group; what we do promote, however, is a rational and critical discourse of ideas, and the opening up of an intellectual dialogue that must be had," the group wrote, adding that the messages are taken verbatim from Harris.
---
Nigeria: Following an incident described vaguely by TheCable.ng as "an argument between some persons [that] almost went out of hand", the north-western state of Kaduna's state security council has warned residents off making "false" 'blasphemy' accusations.
"The Kaduna state security council at its 21st meeting, held on the 3rd November, 2015, deliberated on the recent incidence at the Kawo General Hospital that threatened the peace of the state," the statement read.

"The council was briefed that on the 25th October, 2015, an argument between two workers at the hospital who held opposing political opinions was suddenly twisted into an issue of blasphemy.

"The council was further briefed that the allegation of blasphemy was deliberately advanced by one of the persons involved in the argument to incite violence.

… "Anyone found fabricating allegations of religious blasphemy, whether as a basis for seeking sympathy or for any other reason, will be treated as someone out to incite violence and the breakdown of law and order in the state.

"Such a person will be prosecuted as prescribed in the penal code and other existing laws.

… "Anyone that unilaterally takes the law into his or her own hand will be prosecuted accordingly.

"Kaduna state security council wishes to reiterate its commitment to the protection of lives and property in the state. Appropriate measures will be taken against any individual, no matter his or her standing, found inciting religious, ethnic and political violence or any form of civil disturbance in the state.
All well and good, but prepare for a slight diversion now (seriously, this next line follows immediately in the quoted statement!):
"The council also reiterates that the law banning commercial motorcycles in the State is still in force…["]
It's hardly a revocation of the implementation of Sharia on matters of "blasphemy". However, the emphasis on the damage and security threat posed by malicious or "false" accusations is not unwelcome.
---
India: Sikh protests continue, with leaders explicitly calling for the 'blasphemy' law to be deployed after "10 to 12 incidents":
Sikh community representative Sardar Ramesh Singh has demanded that those responsible for the desecration of their holy book, Guru Granth Sahib, should be tried and arrested under the blasphemy law.

He said this at a meeting of minorities on Tuesday. "Those arrested should be tried under the blasphemy law, be they of any faith, so that such incidents are not repeated."

He said that 10 to 12 incidents of desecration have taken place and, in most cases, the FIRs were not registered. He cited the example of a man, who was arrested in Khairpur, but was later released as he was said to be mentally unstable. He added that those who are arrested should be punished.
---
Russia / France: The Kremlin has accused French magazine Charlie Hebdo of "blasphemy" over a cartoon depicting the Russian plane crash in Sharm el-Sheikh, Egypt. The accusation reflects the charge by the terrorists who killed most of the staff in January that the magazine insulted Islam, though the cartoon in question does not target religion as such. The Moscow Times reports:
Kremlin spokesman Dmitry Peskov has described two cartoons reportedly published in the satirical magazine Charlie Hebdo as "blasphemous," amid a wave of condemnation of the French publication and calls to label its content extremist.

"[The cartoons] have no relation to democracy, nor self-expression, nor anything else — this is blasphemy," Peskov said Friday, according to the TASS news agency.

In an interview with the Russian-language branch of French radio station Rfi on Friday, Charlie Hebdo editor Gerard Briar seemed unfazed.

"We are a secular, democratic and atheist newspaper. The term blasphemy has no meaning for us," he was cited as saying.

"The Kremlin is using this to detract attention from other problems," he added.
Again, with our policy of sharing the works that are accused of 'blasphemy', the cartoon appears below.
---
Egypt: The Journalists' Syndicate on Wednesday was set to host a conference featuring media figures, artists and intellectuals. The aim, to "denounce blasphemy laws". Egypt Independent reports:
The conference is organized by the No to Inquisitions campaign, which has announced plans to submit a memo to the presidency and the next Parliament to remove constitutional articles on blasphemy.

… Most notable among the organizers are journalist Ibrahim Eissa and media host Islam Beheiry, both of whom were subject to criminal charges for insulting Islam, as well as director Dawoud Abdel Sayyed and poet Sayyed Hegab.

Egypt has seen a plethora of lawsuits against several public figures for insulting both Islam and Christianity since the 2011 uprising, which had drawn criticism by freedom advocates.
---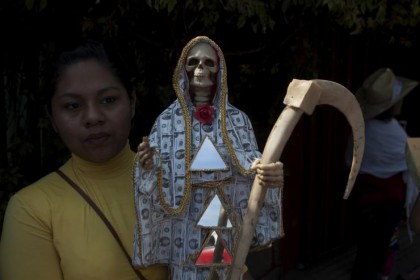 Mexico: It's Day of the Dead again, and everyone's favorite folk-saint of death, Santa Muerte, comes out to play, as IBTimes reports:
Worshippers commemorate the Days of the Dead with food, drinks, music, prayer services and more. Now, parades, effigies and votives featuring Santa Muerte are common in the festivities as well.
Harmless fun in celebration of life, right?
…the Roman Catholic church has condemned the worship of Santa Muerte as blasphemous.

"It's not religion just because it's dressed up like religion; it's a blasphemy against religion," [said] Cardinal Gianfranco Ravasi, president of the Vatican's Pontifical Council for Culture…
Well, it's an opinion.