The week in "blasphemy" news #35
In this Banned Books Week and following International Blasphemy Rights Day, our 35th weekly round-up of 'blasphemy' news features India, Iran, Syria and Iraq, Pakistan (just for a change), Egypt, the UK, Canada, Mali, and Denmark.
---
India: A Hindu mob has attacked a Muslim family, killing the accused man, critically injuring his son, molesting his daughter, and ransacking the house, over unsubstantiated "rumours" that the family ate some beef. Indian Express also has a timeline of events and quotes the daughter saying:
"…There was some mutton in the fridge which was taken away yesterday. They thought it was beef. The police have taken it for examination. If the results prove that it was not beef, will they bring back my dead father?"
---
Iran: Fancy being sentenced to two years of Religious Studies homework?
After posting comments online that were, according to the prosecution, "insulting" to Muhammad, Facebook-user Soheil Arabi was sentenced to death for blasphemy. A higher court has now overturned the death sentence, commuting it to some more time in prison and some prolonged subjection to religious studies, namely "to reading 13 religious books and studying theology for two years", on which he'll be required to submit regular summaries to "the authorities":
Arabi will not be coming out of prison time any time soon, as he is also serving a separate seven-and-a-half-year sentence for allegedly insulting the supreme leader, Ayatollah Ali Khamenei, alongside similar charges.

The commuting of Arabi's death sentence is the first such decision to have been taken by a judiciary court in Iran. It is not clear how many people are on death row in the country for blasphemy, heresy or other religious grounds. Last year a 37-year-old man was executed after being found guilty of insulting the prophet Jonah, making "innovations in the religion" and "spreading corruption on earth". He had interpreted Jonah's story in the Qur'an as a symbolic tale.
---
Syria and Iraq: New figures put ISIS execution death toll at 10,000.
This includes 3,207 in Syria (according to London-based Syrian Observatory for Human Rights) and 7,700 executed in Iraq (according to Iraqi Observatory for Human Rights).
As well as supposedly executing murderers and thieves, self-declared ISIS justice routinely releases videos showing executions for alleged homosexuality and blasphemy. "This grisly figure does not include the thousands more who have been killed in battle and suicide bombings."
---
Pakistan: A common form of 'blasphemy' violence is mob attacks on those who have been accused. And there are fears this week, reported by Agenzia Fides, that:
Four Christians accused and arrested for alleged blasphemy are in danger of being killed in an extrajudicial killing. As Fides learns, Protestant Pastor Aftab Gill, Unatan Gill and two other Christians currently detained in the central prison of Punjab, should appear in court on October 16, but the court has refused to provide them an escort. Family members fear that, in the transfer, they can be killed by the radicals.
It appears that extra protection has been denied. As we previously recorded at End Blasphemy Laws, the accused in this case supposedly used an Urdu word for 'apostle' or 'prophet' for a local figure (and not the Prophet Muhammad) and this semantic disagreement is the supposed cause of the 'blasphemy' charge!
Meanwhile, the influential All Pakistan Ulema Council (APUC) claims that since 2013 it has intervened in 23 incidents involving Christians accused of blasphemy, "preventing them from becoming major incidents". Despite their alleged efforts, this article also contains details on a number of other cases, also reported previously by End Blasphemy Laws, that have resulted in violence and prosecutions against those accused of blasphemy.
---
International Blasphemy Rights Day, September 30: What do the Bible, the Quran, Fifty Shades of Gray, Harry Potter, and the Satanic Verses have in common? For International Blasphemy Rights Day, Brian Pellot at Religion News Services covers 8 books banned for 'blasphemy'.
And Brandon G. Withrow considers "Why repealing blasphemy laws might help promote religious freedom", including words from Michael De Dora of our coalition partner Center for Inquiry (CFI):
"Fortunately, many governments have been strong in publicly condemning blasphemy laws, whether at the U.N., in public statements or in their softer diplomacy," CFI's De Dora said. "The problem is many of these condemnations are just words. What we could really use is more governments using the possibility of changing or pulling out of trade and other agreements to put some force behind these words."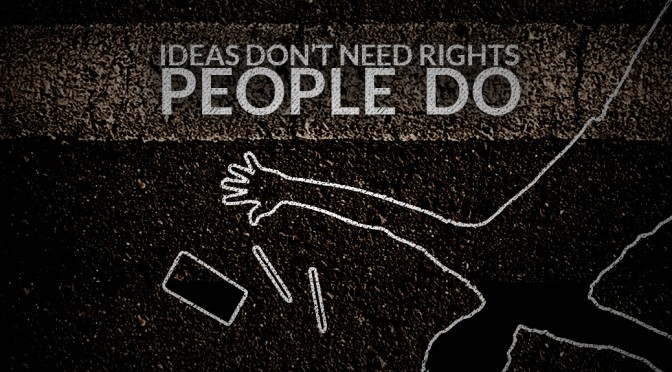 CFI also launched a new website for the day under their Campaign for Free Expression banner, with a focus on individuals restricted in the freedom of expression including numerous 'blasphemy' cases.
International Blasphemy Rights Day, held each year on September 30, is a day to show solidarity with those who challenge oppressive laws and social prohibitions against free expression, to support the right to challenge prevailing religious beliefs without fear of violence, arrest, or persecution.
The International Humanist and Ethical Union (IHEU) marked the occasion with a speech at the UN Human Rights Council refuting the idea that criticism of religion is the same as bigotry or hatred:
The confusion and too ready-use of the term 'Islamophobia' silences and shames people into keeping quiet in case they are seen as racist. This does nothing but create a quietly authoritarian climate of resentment and conservatism and dilutes the importance of tackling racism. Confusing hate crimes against Muslims with criticism of Islamic regimes or misogynist practices defended in the name of Islam does nothing to help challenge racism.
---
Egypt: After the release of Al-Jazeera journliasts last week, there are calls to release Christian convert and journalist Bishoy Boulos, who (as we covered in a previous round-up) was jailed after reporting attacks on Christian churches. The charge against Boulos is that the reports of attacks against Christians was "false", though they are well-documented in the country as a whole, and Release International comments: "Bishoy's continued detention probably has more to do with his earlier conversion from Islam than to any alleged offence connected with reporting." And this isn't the end of his persecution. Here comes the 'blasphemy' law:
He is now also awaiting trial for a blasphemy charge after he attempted to change his religious identity from Muslim to Christian on his official ID card.
---
United Kingdom: Secularist, ex-Muslim, human rights and (ironically) anti-blasphemy law campaigner Maryam Namazie was banned from speaking at the University of Warwick by the Students Union (SU) who said, "she is highly inflammatory, and could incite hatred on campus". She had been invited to speak by the Warwick Atheists, Humanists and Secularists Society for students at the university. The SU at first sort of defended the decision, saying that the "process" was still underway, and appeared to blame the Atheist Soc and the media for reacting "prematurely" (the SU later deleted that page, but it's still visible via Google Cache). There was national media coverage. The Atheist Soc explained that far from reacting prematurely to an ongoing process it was quite clear that the SU had decided to deny their speaker and it was "unpardonably misleading" to suggest otherwise.
Finally the SU apologized to Maryam and to the Atheist Soc and said that the process had not in fact been followed correctly, so Maryam can now speak to the Society, hosted by the SU.
However, as the National Secular Society says, questions remain:
Warwick Student Union has capitulated over one speaker, and over one event, but their policy documents remain unaltered. Significantly, their statement blames an abuse of process, rather than questioning their policy itself. There is seemingly no acknowledgement that a policy which states that external speakers must "avoid insulting other faiths" is unacceptable.
There have been a number of recent cases of University Student Unions in the UK appearing to punish or restrict freedom of expression in particular on religious matters on the grounds of potential (and sometimes entirely hypothetical) "offence". However, the UK's National Union of Students (NUS) has recently come out in favour of 'free speech' against the government's Prevent strategy which places requirements on academic institutions to monitor speakers.
The UK has also seen coverage this week of the plight of ex-Muslims in the UK under Islamic taboos against leaving religion ('apostasy').
---
Canada: Writing in the Calgary Herald, Derek James From considers "The hypocrisy of Canada's anti-blasphemy law":
Two years ago, the Canadian government opened the Office of Religious Freedom, mandating the new office to protect and advocate for religious minorities, oppose religious hatred and intolerance, and promote the Canadian values of pluralism and tolerance around the world.
But there is some irony here. While the Canadian government publicly defends the freedom to publish cartoons that mock a religious figure and looks abroad to protect religious minorities from oppression, Section 296 of the Criminal Code makes it an offence to publish blasphemous materials in Canada. If someone is convicted under Section 296, he or she can go to jail for up to two years. In other words, Canada promotes tolerance and the freedom to speak freely about religion abroad, yet restricts each domestically.
Most Canadians probably do not know what "blasphemy" is, let alone that publishing blasphemous materials is a criminal offence.
---
Mali: An Islamist militant faces trial for the destruction of "blasphemous" ancient heritage in Timbuktu.
In his role as part of the Islamic Court of Timbuktu, Faqi is alleged to have jointly ordered or carried out the destruction of nine of the mausoleums, as well as the Sidi Yahia mosque.

The mausoleums were constructed to pay homage to deceased saints who were regarded as pious, great humanists and scholars of their time – but were considered blasphemous by the militants.
---
Denmark: 10 years on, the cartoonist behind perhaps the most infamous Jyllands-Potsden Muhammad cartoon, Kurt Westergaard, says he feels "no regrets".
Kurt Westergaard, 80, has received numerous death threats and lives under police protection since his caricatur published by daily Jyllands-Posten on September 30, 2005.

In 2010 an axe and knife-wielding man broke into his home, forcing him to take refuge in a panic room for 10 minutes as his attacker pounded on the door, while his five-year-old granddaughter was left alone in the living room.

"My basic feeling has been and still is anger. If you are threatened I think anger is a good feeling because it is like you mentally strike back," he told AFP in a telephone interview.

… Rather than an attack on Muslims, his illustration should be seen as a criticism of "terrorists who get their spiritual ammunition from parts of the Koran," he said.
There was also a free speech conference in Denmark this week, which has been described as "keeping the spirit of Charlie Hebdo alive".
The conference was supported by the Danish Ministry of Culture and was hosted in the country's parliament because this is the only building in Denmark which it is possible to protect from the now traditional arrival of the advance brigade of the Islamic blasphemy police.
Reminder: Denmark does still have a quasi-blasphemy law on the books!
---
Anti-atheist persecution: Columnist Aki Muthali discusses "Atheistophobia", saying "It's time to talk about the most persecuted minority in the world".
While apologists create mendacious claims of the "New Atheist" threat that is persecuting Muslims – very little attention is given to how atheists have been a persecuted minority for centuries. Both in historical and present-day context – atheists and secularists are scorned and dehumanised by society worldwide.

… The persecution of atheists doesn't end with Islamic nations – it's a global trend that testifies to how atheists are the most persecuted minority on Earth. Blasphemy laws also prevent atheists from expressing their atheism and challenging ideas that systematically abuse them. By logic, blasphemy is anything that questions theocracy – and as a result – even merely addressing how religion abuses atheists can be defined as a blasphemous act, leaving a person criminally charged, prosecuted and sentenced to death or imprisonment. This means an atheist is denied even the legal right to protect themselves from the tyranny of theists.