The week in "blasphemy" news #27
Saudi Arabia really doesn't want anyone, anywhere in the world to talk critically about (or "insult") religion
Two pastors in Sudan escape death penalty, after being freed on time served
Journalist Shoaib Adil is in hiding after being accused of "blasphemy" in Pakistan
Secular groups lobby Nigeria to Save the Kano Nine
The gay Pride stabbing in Jerusalem was wrong, but Pride is "blasphemy", says Rabbi
New Zealand has a new, second law that could function as criminalizing "blasphemy", this time specifically anything that seriously upsets someone who is a religious person if it happens via the internet
Asia Bibi's lawyer complains of government failures in death-for-blasphemy case
Copts in the US call for support of Bill demanding worldwide repeal of blasphemy laws
This is the Friday round-up of news in "blasphemy" for Friday 7 August 2015.
---
Saudi Arabia reiterates call for global anti-'blasphemy' law
The August 5th Jesus and Mo comic strip comments on Saudi Arabia's push for a global anti-blasphemy law to criminalize speech against prophets and holy books. When Mo says, "Maybe there should be a FEW restrictions' to free speech", he echoes Abdulmajeed Al-Omari, director for external relations at the Ministry of Islamic Affairs for Saudi Arabia, who actually said:
"We have made it clear that freedom of expression without limits or restrictions would lead to violation and abuse of religious rights. This requires every nation to intensify efforts to criminalize insulting heavenly religions, prophets, holy books, religious symbols and places of worship."
Al-Omari was participating in an International Symposium on Media Coverage of Religious Symbols in the light of international law which took place in Lille, France.
Ted Nettleton, Director of media relations at the U.S. religious freedom organization Voice of the Martyrs, is particularly concerned about Saudi Arabia's call for limits on free expression:
"Liberty-loving people everywhere and of all faiths should firmly stand against the spread of blasphemy laws, and work toward the repeal of such laws in places where they already exist."
In an article in The Clarion Project, Elliot Friedland echoes the concern of many:
"By demanding an end to criticism of religion at this symposium, Saudi Arabia is attempting to impose the rigid blasphemy codes of its own theocratic society onto the rest of the world."
Saudi Arabia and the Organisation of Islamic Cooperation (OIC) have been pushing the United Nations to enact a global ban on "blasphemy" or "defamation of religion" for several years. With Norway and Iceland abolishing their blasphemy laws this year, and Malta's lawmakers considering doing likewise, the trajectory in the western world seems to be very much against Saudi Arabia's push for a global 'blasphemy' law. However, wth countries like UAE and Kuwait and Brunei tightening their laws in recent months and years, the powerful Saudi lobby may lend a false legitimacy and encourage new 'blasphemy' laws in the parts of the world where they are are used most frequently and most severely to curb freedom of thought, religion, and free inquiry, and to silence freedom of expression on matters relating to religion.
Sudan: Two Christian pastors freed after months in jail, avoiding possible death sentence
As we've been reporting in recent weeks, two pastors in Sudan in a property dispute with local government faced a litany of charges including "spying" and "blasphemy", the most serious of which mandated the death sentence. However, after international criticism and the arbitrary and malicious nature of some of the charges, the two have now been released, though they were not exonerated on all charges. Mission News reports:
Yat Michael had taken his child to Khartoum for medical treatment when he was arrested on Dec. 14, 2014 after preaching at a local church during his stay in Sudan. Peter Yen was arrested in January 2015 when he went to enquire about Michael's whereabouts. The two men were then reported as missing until Sudanese authorities revealed that they were being held in prison for "crimes against the state."

The DPA German news agency reports the judge found Yat Michael guilty of "breach of the peace" (Article 69) and Peter Yen (also known as David Reith) guilty of "managing a criminal or terrorist organization" (Article 65). But he ordered both released, as they had already served the sentences for these offenses by their 8-month term in prison.

Dr. David Curry, President/CEO of Open Doors USA, commented on the good news of the pastors' release: "I am grateful and encouraged to hear news about the release of Pastor Michael and Pastor Yen. The worldwide prayers of many Christians have been answered.

"Our hope is that freedom of religious expression will become a part of Sudanese policy so that Christians and others may practice their faith in peace. Unfortunately, Christians in Sudan are currently not free to express their faith."
"Blasphemy charges, threats loom for outspoken journalist in Pakistan"
Pakistan continues to be a dangerous country for liberal journalists. Shoaib Adil, a 49-year-old magazine editor and publisher in Lahore, is "a vocal critic of religious militarism." An interview with Sumit Galhotra from cpj.org, explains why Adil is in hiding:
Forty-nine year-old magazine editor and publisher Shoaib Adil fled his home in the eastern city of Lahore last month and went into hiding with his wife and children. Adil faces threats and possible charges of blasphemy–a crime punishable by life imprisonment or death–in connection with a book he published in 2007, written by a judge belonging to a religious minority group in Pakistan, as well as with his magazine, which covers sensitive issues. For years, Adil has been able to navigate the challenges that come with his critical journalistic work. But now he faces the possibility of being unable to live or work safely in Pakistan.
On the accusations, Shoaib Adil answers the interviewer's questions:
In the book, Bhatti wrote about his religious upbringing as well as his professional life. But maulvis [clerics and religious activists] have taken issue with a book published seven years ago that is pretty much out of print, and have accused us of blasphemy. I don't think it contains anything blasphemous.

The June issue of Nia Zamana put the spotlight on the murder of Rashid Rehman, a human rights lawyer in Multan, who was gunned down for defending Junaid Hafeez, a lecturer who is facing charges of blasphemy. There is a complete lack of sensibility here. How long will this continue? Shortly after the June issue was published I began receiving calls telling me there would be consequences.
He discusses the overwhelming sensitivity around 'blasphemy' and the legal quagmire surrounding 'blasphemy' accusations:
No one wants to talk about blasphemy. No one wants to consider it. It's a landmine. The pressure is so immense that police will go along when blasphemy accusations are leveled against someone. Lawyers won't touch the cases. Lower court judges are intimidated by "mob justice" by religious groups who are able to organize themselves at a moment's notice. They are so powerful, they intimidate judges into silence. Judges are aware that they can be shot dead. Lower courts often sentence those accused to death, and leave it for the higher courts to have final say. Frequently, those accused are murdered. And anyone accused almost certainly will languish in prison for years, even if nothing is proven against them.
And the personal impact:
I have been feeling shock. I feel that I have escaped from the mouth of death because very few people escape blasphemy accusations. At first I was having trouble coming to grips with what happened. Now I am keeping a very low profile and minimizing my time in public. It's become impossible for me to work here. Almost two months on, my office remains shut. And after sending my wife, son, and daughter to live with relatives, and spending almost a month away, we're together again but still in hiding.
Secular groups lobby Nigeria to Save the Kano Nine
As we reported last month, nine individuals in Kano state, northern Nigeria, were sentenced to death by a Sharia court for 'blasphemy'. Secular groups have written to the Nigerian president and others protesting the sentence. Organised by Secular Policy Institute in the United States, the letter (PDF) expresses:
…deep concerns over the death sentences handed out for blasphemy last month by the Kano State Upper Sharia Court to nine individuals affiliated with the Tijaniyyah Sufi sect. We urge the government of Kano State and the Federal Government to issue full pardons and to ensure protection of the nine.

International conventions (e.g., Universal Declaration of Human Rights and the International Convention on Civil and Political Rights) and growing global consensus call for the preservation of the rights of free conscience and religious expression.

We write to advocate on behalf of Abdul Inyas and the other eight who are being sacrificed to pacify a mob. With the lack of transparency in the trial (including the names of the accused) and comments by local-authorities expressing relief at stemming further vigilante acts; this situation has the appearance of political expedience rather than a fair administration of justice.

… Ideally, we would ask for a full pardon and civil protection of the condemned. We appreciate that this issue is complex. But justice demands due process and the protection of individual's rights of expression.
Coalition partner the International Humanist and Ethical Union (IHEU) wrote to protest the sentencing last month, similarly calling into question the flawed process and lack of transparency in the trial, stating the rights violated by the Sharia death sentence, and urging a full pardon:
Our understanding is that federal intervention, citing the constitution (Section 38, subsection 1) which is superior to any court, could enable these horrendous and illiberal convictions to be lawfully overturned in a civil court. We urge you all to do whatever you can to seek true justice, respecting and restoring the human rights of those accused, and to work to end the malicious and unjust use of "blasphemy" as a criminal prohibition anywhere in Nigeria.
Gay Pride stabbing was wrong, but then Pride is "blasphemy", says Rabbi
After a multiple stabbing last week, carried out by an ultra-Orthodox Jewish man against random participants in Jerusalem's gay Pride march, there was naturally an outpouring of soul-searching and condemnation.
One young woman died from the stab injuries at the weekend. President Reuven Rivlin noted that 16-year-old Shira Banki was an ally of the LGBT community who "joined the parade in the name of the values ​​in which she believed – tolerance, equality, hope, and love".
In a not altogether helpful comment, the Chief Sephardi Rabbi of Jerusalem, Shlomo Amar, condemned the "criminal act" but added, apparently assuming that the victims of the stabbing were doing something unlawful:
"No one should take the law into their own hands. Should you find that you wish to protest blasphemy there are various ways that are sanctioned by both religion and the law, and exercise due caution."
Because obviously calling for tolerance and equality is a "blasphemy" —the Rabbi seems to agree with the murderer that much — so if you can't stab them with a knife, you can always get them in the courts.
New Zealand's new, second "blasphemy" law
New Zealand already criminalizes "blasphemous libel". In addition, parliament enacted a Harmful Digital Communications Act last month, which contains language that is "disconcertingly familiar from other pseudo-blasphemy laws", as we put it in our weekly round-up #22.  The Act had come as a bit of a bolt out of the blue for campaigners in the country, and concerns were quickly raised about its "ludicrously vague" terms, not least on provisions around offending religious sentiments.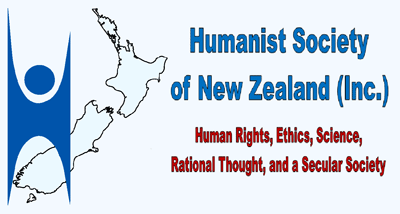 Partners in our International Coalition Against Blasphemy Laws, the New Zealand Humanist Society, is one of the groups concerned that the Act, aimed at cyberbullying, is (in part) essentially a second blasphemy law, calling it "An embarrassing step backwards and a severe blow to free speech".
The Act will permit individuals to bring proceedings if they allege that a digital communication has denigrated their religion, causing them to "suffer serious emotional distress". And the punishments are some of the most severe in the world – if charged, individuals could face up to two years imprisonment or a fine of up to $50,000.
The President of the New Zealand Humanist Society, Mark Honeychurch, said "This legislation not only flies in the face of human rights, but the introduction of yet another law that gives special privileges to religions is unfair, unpopular and unrepresentative of our society, where over 40% of New Zealanders identify as not religious, making this our country's largest single belief group."
Honeychurch said "It is ironic that on the same day that the parliament in Iceland voted unanimously to abolish their blasphemy law, in New Zealand we adopt a new one, taking a great step backwards from being a progressive society and breaching both International Law and our obligations under international agreements."
"We want to increase social cohesion and understanding, and by awarding privileges and protecting groups from critique we are closing the door on free speech, free inquiry and public debate. New Zealand has to abolish its blasphemy laws before they are used to censor, suppress, and silence public debate."
Asia Bibi's lawyer complains of government failures in death-for-blasphemy case
The Muslim lawyer, Saiful Malook, of Christian blasphemy-accused Asia Bibi, is himself at risk of threat or assassination just for defending her. After six years in prison, Asia Bibi won the right to appeal her death sentence last month. But Malook complains of the various conceptual and procedural failures in implementing the 'blasphemy' law against her. Christian Today reports:
"The authorities must put aside religious sentiments and verify the facts, first. However, they are subject to the influence of religious fundamentalists and do not stop the militants from attacking those accused of insulting the Prophet Muhammad, or setting fire to their homes…

"Blasphemy is within the hudud (crimes against God), but none of the judges asked if the State in person or an authorized officer have filed a complaint of blasphemy against Asia. Sharia (Islamic law) says that the accused must confess their crime and all testimonies verified before the trial. All these requirements have been ignored".
Coptic Solidarity calls for worldwide repeal of blasphemy laws
International campaign group Coptic Solidarity has joined the call to end blasphemy laws, launching a campaign – Take Action to Repeal Blasphemy Laws – for US-based Copts and others to lobby the US government in support of House Resolution 290, which calls for the global repeal of blasphemy laws. Copts are disproportionately targeted by "blasphemy" accusations in places like Egypt. Announcing the campaign, the group said:
Coptic Solidarity applauds the bi-partisan cooperation on this important bill which addresses the dangerous proliferation and use of blasphemy laws and norms at both the international and national levels. This resolution affirms full religious freedom for all, and has a particular focus on blasphemy laws in Egypt, Pakistan, and Saudi Arabia. The laws in each of these countries have a similar objective, which is to place a government as the arbiter of truth or religious rightness and empower the government to discriminate against reformist individuals and millions of minorities by enforcing majoritarian religious views through vague and overarching criminal definitions, such as "insulting Islam".
"The Jihadist of Copenhagen"
New Republic has a long-read on the homegrown Jihadist who carried out the Copenhagen shootings in February. Omar El-Hussein opened fire on participants attending a seminar on 'blasphemy' and free expression and later at a young man at a synagogue, in an apparent copycat to the Charlie Hebdo outrage the month previously.
There is no understanding El-Hussein—let us state that in advance. It can be foolish to attempt to plumb the depths of what motivates someone to murder people he doesn't know, even if a political motive seems to exist.

… Like the shooters in Paris, El-Hussein was clearly a troubled young man. But he was also something more: a Muslim in a formerly ethnically homogeneous European nation that is now decidedly less so, and struggling with it.
Speaking to his friends in a gang he had joined called the Brothas, one member says:
"Omar taught us one thing," Abdurramadan said. "It's us against the police."
No one fully understands El-Hussein's motives, and he acted alone, the young men insisted. Yet even if his actions were horrific, they were in some ways almost inevitable, they said, a consequence of a society that views Muslims as second-­class citizens.
"He was a good man," Ahmed [another Brothas member] said of El-Hussein. "We've all known him here since we were kids."
The gang appears to blame alienation and social marginalization and 'free expression' against Islam for El-Hussein's actions, an impulse the author of the piece appears to agree with. But some of El-Hussein's radicalization was part a very recent phenomenon:
According to a Reuters special report, an unpublished official investigation found that El-Hussein had grown increasingly religious over his final six months in prison. In September, he started to talk of heading to fight in Syria. Another inmate he'd spent time with was later discovered promotingISIS on social media, via a hidden cell phone. El-Hussein grew angry at the sight of immodest clothing on television. Just before his release he assaulted another inmate "for no apparent reason."

Prison officials added his name to a list of inmates at risk of radicalization that it flagged to PET. The intelligence service, however, was never alerted when El-Hussein was released.

Nine minutes before his first attack, El-Hussein pledged his loyalty to ISIS. "I swear allegiance to Abu Bakr," the head of ISIS, he wrote on Facebook. He also reportedly posted a video called the "Sword of Jihad," which featured an Arabic song, the lyrics of which state, "Our purpose is to destroy you. … We will come to you with slaughter and death." He listed himself as an employee of "Murder Inc."