The week in "blasphemy" news #22
There's good news and bad this week, as Iceland, parliamentarians yesterday abolished the country's antiquated blasphemy law, and in Pakistan there was some rare positive and timely police intervention saving a Christian couple from being "beaten to death" by a blasphemy mob. But Nigeria has confirmed 9 "blasphemy" death sentences, and New Zealand has a suspiciously broadly-worded new law…
This is the 22nd of our weekly round-ups of blasphemy news and views.
---
Nigeria: 9 blasphemy death sentences confirmed, celebrated by some, deplored by others
Following on from last week's late-breaking news that nine men were convicted of "blasphemy" and sentenced to death in Kano state, there have been a few developments in the past seven days.
The Kano state government welcomed the "blasphemy" death sentences as an example of the rule of law!:
The Kano state government  has expressed satisfaction that the rule of law was allowed to triumph in the case of a recent judgment by an Upper Shari'a Court, Rijiyar Lemo, in the state, which passed death sentences on nine persons for blasphemy against the Prophet Mohammed (SAW).

The government noted that the judgment is a clear pointer to the fact that whoever breaks the law of the land will not be spared.

It then appreciates the patience and the calmness with which the general public allowed the law to take its course despite the unwarranted provocation.

…The statement further hopes that this will serve as deterrent to those who feel they can come and course a breach of the peace and further justifies government's resolve to look into the existing law which provides for the regulation of preaching and preachers in the state through the State House of Assembly.
The hashtag #SaveKanoNine trended on Twitter in Nigeria.
If we don't #SaveKanoNine then Boko Harram would have "justification" for their terrorist activities, they use same excuse to kill & murder

— Kayode Ogundamisi (@ogundamisi) July 1, 2015
#SaveKanoNine is not about Islam versus Christianity. It is about human rights; our shared humanity. @POTUS @Amnesty @FreedomHouseDC — Ohimai Godwin Amaize (@MrFixNigeria) July 1, 2015
I support #SaveKanoNine because I think that it is ridiculous to have punishment for "blasphemy". You do not kill people for their beliefs. — Elnathan John (@elnathan) July 1, 2015
And partners in the End Blasphemy Law campaign, the International Humanist and Ethical Union and the Nigerian Humanist Movement wrote to authorities in Nigeria, to protest the verdict.
IHEU and the Nigerian Humanist Movement raised a series of objections to the sentencing on human rights grounds, both against the charge of "blasphemy" and the death sentence in principle, as well as highlighting the particular circumstances of the case that constituted a violation of the right to a fair trial.

The condemned men were arrested following accusations in May that their religious celebrations honouring the founder of their sect were "blasphemous", prompting riots in Kano, with a large number of Muslim men rallying against the accused and setting fire to a building.

With no regard for international standards of due process the head of Kano state's Islamic religious police said after the mob violence, "We quickly put them on trial to avoid bloodshed because people were very angry and trying to take law into their hands."

An Upper Sharia Court has subsequently upheld the convictions and parts of the Kano population are said to be "jubilant" at the verdict.
---
A victory in Iceland: Pirates and Humanists celebrate the end of blasphemy law
As we reported last night, Iceland has finally abolished its blasphemy law! The move was made in response to the Charlie Hebdo massacre in January this year, and was pushed through parliament in a proposal by the Pirate Party, though there has been wide political consensus, as well as religious and secular support for the repeal. The Independent reports:
Humanists welcomed the repeal:
IHEU President Andrew Copson said, "This is superb news. First Norway and now Iceland have finally moved to abolish their blasphemy laws this year. It follows the tragic attacks on Paris and Copenhagen and is certainly in part a response to this violence, demonstrating that there are always those people unwilling to give in to intimidation and violence, and instead to push back against it. All states with blasphemy laws which are in practice never used should join in overturning them, as an example to the world."
---
Pakistan: Couple almost lynched by another "blasphemy" mob, saved by police
There are horrible echoes of the 2014 case in which a Christian couple were incinerated in a kiln. But on Tuesday this week in the village of Makki (or Chak in other reports?) in Punjab province, the police actually saved a Christian couple from a Muslim mob who were attempting to lynch them. It:
represents a rare successful intervention by authorities in a country where even unproven allegations of blasphemy can result in a bloody death at the hands of vigilantes.
The reason for the accusation appears to be as utterly trivial and pathetic as they commonly are:
Sohail Zafar Chattha, the district police chief, told AFP the illiterate Christian couple had obtained an old panaflex advertisement awning which contained the names and slogans of various colleges, which they were using as a mat to sleep on in their home.

Arabic inscriptions, allegedly from the Koran, were found among the colleges' slogans, leading one local barber as well as two religious leaders to accuse the couple of committing blasphemy.

"Muslims of the town gathered there and dragged the poor couple who didn't know what they had done. They were being beaten to death," Chattha wrote on Facebook.

"Police intervened in time and rescued the couple from the mob and shifted them to Lahore and handed over them to the elders of Christian community," he later told AFP.
Why they were "handed over" to elders is unclear – for protection, for rebuke? Either way, this wasn't even the end of the matter:
Police have arrested one of the religious leader while the other and the barber remain at large, he said. Some residents interviewed by the police said the barber may have been interested in obtaining the couple's house.

Nadeem Anthony, a Christian human rights lawyer, hailed the police action.

"It is a positive development that the police is taking its duty seriously and protecting the accused in such cases," he said, adding he could recount three other instances where authorities had stepped in in time.

"If the state and its organs continue to perform their duties, the elements who take the law into their own hands will be discouraged," he added.
While it's obviously good news that the police intervened, another report has further details of the actual mob violence as they were "beaten and humiliated":
Trouble flared after Owais Qamar, a Christian laborer, found a banner by a roadside and took it home to use as a carpet, police said.

The banner had the logo of the University of Sargodha with the words Hadith (Oh my Lord, increase me in my knowledge), written on it.

A Muslim woman, Kaneezan Bibi, accused the family of blasphemy after seeing the banner in the family's home during a visit.

Soon after, a mob beat Qamar, his wife, Rukhsana, and sister-in-law Rehana.

Two village guards then shaved their heads and paraded them through the village on donkeys, an act of humiliation practiced in Pakistan, police said.
---
Iran: Leaders' social media hypocrisy, and prosecutions for "blasphemous" and critical content
The Electronic Frontier Foundation has pointed out the hypocrisy of Iranian leaders using social media in a country where Facebook and Twitter have been suppressed for two years, and numerous people face trials and jail time for their internet use.
Iran's President Hassan Rouhani and a number of members of his cabinet, including foreign minister Javad Zarif and oil minister Bijan Zanganeh, are well-known for using popular social media networks—like Facebook—despite bans on their use in Iran. The moderate positions of many members of Rouhani's administration have led to speculation over the past few years that the ban on many social media platforms may eventually be lifted.

Yet as Hassan Rouhani approaches the second anniversary of his election to the presidency on August 4, the promise of future reform remains unfulfilled.

Iran's recent treatment of average citizens who use social media suggests an alternative vision. In February, twelve Iranian Facebook users were arrested on charges of "spreading corruption, and [carrying out a] mission to change family lifestyles." Eight more Facebook users werearrested last year on a variety of charges, including blasphemy, propaganda against the ruling system, and insulting the country's supreme leader, and given sentences of between seven and 20 years in prison.
Among various cases of individuals prosecuted for criticism of the government ("propaganda against the state"!) the EFF notes the case of…
Soheil Arabi, was sentenced to death in 2014 for "insulting the prophet of Islam" on Facebook.
Having appealed, EFF have an update:
According to Iranian news sources, the Supreme Court reviewed Soheil Arabi's death sentence and decided to cancel it. While Arabi remains in prison, his successful challenge of the death penalty is cause for celebration.
However, the local news reports suggest that corporal punishment may still be on the cards, and Arabi does remain behind bars!
---
New Zealand: Is this a new blasphemy law by the backdoor?
A new law in New Zealand, the "Harmful Digital Communications Bill", is meant to protect people from cyberbullying, but concerns have been raised about a number of provisions that are "ludicrously wide":
A similar risk arises from the prohibition on a communication that may be "grossly offensive to a reasonable person in the position of the affected individual". It does not take much imagination to see how that provision could be used by a deeply religious person to resurrect blasphemy laws that have largely (and properly in a secular society) fallen into disuse.

A complainant will not be able to obtain any redress unless he or she can show that the offending digital communication has caused harm. But harm has also been given an alarmingly expansive definition by the statute. It is defined as anything that causes a complainant "serious emotional distress", a disconcertingly subjective notion.
As ever with some new legislation, the proof will come in the implementation and how courts resolve actual disputes, but certainly some of this language is disconcertingly familiar from other pseudo-blasphemy laws. It's clear that some of the intention here is to combat genuine concerns about online hate speech, harassment and bullying, but some dissenting MPs voiced further concerns when the law was enacted by parliament on Wednesday:
After it passed by a 116-to-5 vote in New Zealand's parliament, Gareth Hughes, one of the four Greens MPs to vote against the bill, said it was overly broad and "risks limiting our freedom of expression".

NZ Labour said it was "wedged" by the NZ government: while some of the bill was "worthy of discussion" the law has "deeply worrying" elements.

… There's a safe harbour provision for Web sites, and here's where the free speech arises. A platform like Facebook or Twitter (if they bothered) can opt into the safe harbour – but only if they agree to remove allegedly offending material either on-demand or within the bill's 48-hour grace period.

New Zealand's National Business Review notes complaints that it could criminalise children over the age of 14.
---
Human rights group launched annual blasphemy prisoner list
The organization Human Rights Without Frontiers has launched a report, "Freedom of Religion or Belief & 'Blasphemy' Prisoners List", covering the 2014 period:
The Prisoners' List of Human Rights Without Frontiers country by country comprises prisoners whose activities were exclusively related to freedom of religion, i.e. freedom to change religion, freedom of association, freedom of worship and religious assembly, freedom to share one's beliefs, conscientious objection to military service.

A separate section has been created to cover the misuse of so-called antiblasphemy laws restricting freedom of expression related to religious issues.
Though the short "blasphemy" section is far from an exhaustive list, covering only four of the many countries with "blasphemy" laws and indeed with blasphemy prisoners, it's a useful resource, and the combined prisoner index runs to nearly 150 pages even without covering every country.
---
Egypt just won't let El-Beheiry go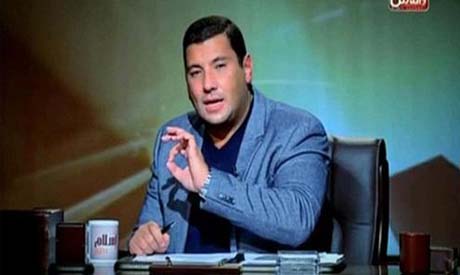 Last week's good news that TV presenter Arabi El-Beheiry had been acquitted on "blasphemy" charges relating to a programme in which he asked difficult questions about the tenets of Islam, has been tempered by reports of an appeal by the complainant:
Lawyer Mamdouh Abdel-Gawad, who had filed the case against Beheiry in the first place, filed an appeal against the acquittal with the general prosecution on Saturday. The prosecutor is yet to rule on the appeal request.

Last May, in a separate case filed by another lawyer, Mohamed Abdel-Salam, El-Beheiry received a five-year sentence, also on charges of blasphemy. The TV presenter appealed the verdict and was released on bail.

Up to 48 legal complaints have been filed against El-Beheiry over views he expressed on his show, With Islam.

In April, Egypt's highest Sunni authority Al-Azhar also filed a complaint with Egypt's General Authority for Investment and Free Zones requesting it stop airing El-Beheiry's show.

Al-Azhar accused the presenter of leading a "fierce" campaign against the foundations of Islam and Islamic heritage.

Shortly afterwards, Al-Kahera Wal Nas cancelled the show.
---
Humanists host Bangladeshi-America Rafida Ahmed and air plight of atheists in Bangladesh
The British Humanist Association yesterday welcomed to London Rafida Bonya Ahmed, the widow of murdered writer Avijit Roy. Roy is one of three "atheist bloggers" assassinated this year alone apparently for having dared to criticise Islamic leaders or ideas. The Bangaldeshi Government has, explicitly at the request of Islamist parties, pursued atheist bloggers through the courts and jailed them under the ICT Act for "insulting religious sentiments".
Bonya Ahmed has delivered the 2015 Voltaire Lecture, hosted by the British Humanist Association, in London tonight to a packed audience of fellow humanists and free speech advocates.

… In her lecture, Bonya repeatedly asked, 'How did it come to this? How did we end up with murders in the streets, and what is the wider context for this series of assassinations of humanist intellectuals, writers and bloggers?' She took the audience through the history of Bangladesh, the laws used to persecute the humanist bloggers, the repeated caving in of the Government to the demands of Islamists, and the need for bravery in the face of attack. She quoted one of Avijit's blogs, where he wrote 'Those who think victory will be realized without any bloodshed are merely living in a fool's paradise. We risk our lives the moment we started wielding our pens against religious bigotry and fundamentalism…'
In a Q&A after the lecture she said she "reserved judgement" on news that Bangladeshi's Rapid Action Battalion (RAB) (widely criticized as a "government death squad") had arrested 12 members of an alleged al-Qaeda terror group in connection with the murders; she expressed skepticism about the timing of the arrest and the nature of the group – which is so dissimilar to previous arrests made in connection with the murder of Washiqur Rahman.
The close of Rafida Ahmed's #BHAVoltaire Lecture – immediately followed by a standing ovation. #WordsCannotBeKilled pic.twitter.com/Bk4st9xG9I

— IHEU (@IHEU) July 2, 2015
Yesterday our partners the International Humanist and Ethical Union also lodged their human rights concerns relating to Bangladesh at the UN Human Rights Council.
In a written statement to the UN Human Rights Council, the IHEU raised its serious concerns about the situation for those who seek to express their criticism of political Islam, Islamism, or religious militancy, who advocate secularism, or who identify as atheist in Bangladesh.

Over the past few years there has been a pattern of vicious attacks specifically targeting Bangladesh's secular / atheist blogging community, which the state authorities seem either unable or unwilling to prevent.

…The Government of Bangladesh has not only failed to offer public condolences to the families of the murdered bloggers this year, but it has taken the opportunity to reiterate that existing laws are sufficient to punish anyone who attempts to insult religion. Under the existing cyber laws in Bangladesh, a person can be jailed for up to 10 years if convicted of defaming a religion online.

In our submission, we described this as key in contributing to "a public space in which minorities, whether critical of religion, Islamism, or the Government, are muted by fear of reactive extreme violence; a space full of danger and intimidation for those who seek to exercise their fundamental human rights to freedom of religion, belief and expression as protected by international law."

We argued that, "By enabling this climate, Bangladesh is acting in contravention of its international obligations on human rights and betraying those who are courageous enough to speak out against religious extremism and militancy in the country."

We called on the Human Rights Council to put pressure on Bangladesh to urgently bring to justice those responsible for the brutal attacks, and to make clear that attacking freedom of religion and expression will not be tolerated. Contrary to its actions so far, we also called on Bangladesh's Government to make a clear and public statement clarifying that the right to freedom of religion or belief applies to those with no religious belief as well – we argued that the importance of the country's leader recognising atheists as moral agents in possession of the same rights as religious citizens should not be underestimated.
---
Blasphemy hypocrisy of Tahir-ul-Qadri
British political blog Left Foot Forward raises some concerns about an "counter-terrorism curriculum" launched in London this week, which on the face of it is calling for peace and non-violence. The blog questions the emphasis on the idea of there being one "true" Islam and moreover highlights that its author, Dr Muhammad Tahir-ul-Qadri, is somewhat… um, changeable in his attitudes:
…back home in Pakistan, Qadri proudly takes ownership of formulating Pakistan's blasphemy law, which has been abused to suffocate and intimidate religious minorities through blatant mob violence.

When addressing western audiences, Qadri claims that the blasphemy law does not apply to non-Muslims. Back home in Pakistan he has advocated 'killing blasphemers… like dogs'.

This video highlights his contradictory stance on the blasphemy law, and showcases his claim that he incorporated section 295-C to the Pakistan Penal Code which sanctions the death punishment for defiling Islamic scriptures or insulting Prophet Muhammad.