The week in "blasphemy" news #17
In Pakistan, alleged "blasphemy" results in anti-Christian violence and in calls to repeal blasphemy laws. Washinghton DC subway decides to ban political ads on the Metro after controversy over a cartoon proposed by US anti-Muslim group.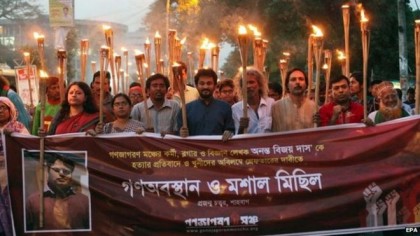 In Bangladesh, another secular blogger fears for his life and the government bans Islamist group accused of blogger attacks. In India, Punjab language department relaunches a "blasphemy" book and hurriedly withdraws the order. Hundreds of youths protest in Kano, Nigeria against a Muslim cleric accused of "blasphemy".
In the UK, former Archbishop of Canterbury Rowan Williams defends "blasphemy" as 'the language of protest'.
This is our seventieth round-up of "blasphemy" news and views from the past seven days.
---
Pakistan: alleged blasphemy results in anti-Christian violence and in calls to repeal blasphemy law
Hamayun Masih, the accused, was allegedly seen burning pages of Holy Quran after which he was booked by police and charged with blasphemy under section 295-B of Pakistan Penal Code.
Following these allegations, an angry mob went from a mosque on Friday 22 to the house of the Christian man to protest against his supposed blasphemous attitude. In the meantime, hundreds of Christians fled their homes which were ransacked and burnt on Saturday 23.
Rev. Riaz Arif, from the Protestant church of St. Joseph Sanda, said: "Yesterday afternoon some Muslims saw Humayun Masih burn some papers containing sacred verses. The youth is mentally unstable and a drug addict, but a group of people took him and brought him to the police station of Gulshan Ravi to file a complaint. Given his condition, the officers did not take the issue seriously. "

At that point, the pastor continued, "some Muslim religious leaders gathered a crowd and spread the news. The situation became increasingly tense: Muslims blocked the road in protest against Christians demanding  Humayun be burned alive. The attack took place between 5-6pm"

The police intervened to stop the riots, using tear gas, but with little success. Even the deputy inspector general of police was injured. The Catholic church in the area was attacked; Bibles and religious books were burned. Some Christians have fled, others are still locked in their homes.
Christians then gathered in Lahore and Karachi, the country's biggest city, to protest at the attack. They condemned the violence and called for better protection as well as compensation for those affected. Police in the Pakistani city of Lahore have made 150 arrests.
On 27 May, Pakistani Christian lawyers demanded abolition of blasphemy law :
Nasir Saeed, Director of the NGO CLAAS (a Christian charity dedicated to helping persecuted Christians in Pakistan) said :
"No one should be allowed to take the law into their own hands. Mass attacks against entire communities show that hate against Christians is growing."

"The blasphemy law is widely used for revenge, but the government has not yet managed to take steps to stop the misuse of the law and ensure security for Christians. If those responsible are not punished, those who attack with impunity Christian neighborhoods and churches are encouraged."

Christian lawyer and human rights activist, Sardar Mushtaq Gill further commented :

"It has become difficult for Christians to live with Muslims, especially when the blasphemy law is abused. We ask the international community to help bring its abolition in Pakistan"
---
USA: Controversy over subway ad depicting Prophet Mohammad proposed by anti-Muslim group American Freedom Defense Initiative
After having carefully weighted whether the allow this subway ad,  the Washington Metropolitan Transit Authority eventually decided to ban all "issue-oriented" advertising for the rest of the year,  meaning no ads that convey religious or political messages will be allowed on the transit system.
A Metro official said the agency feared the ad would make buses and subway stations "terrorists targets."
The story reminds us of the fine line between valid criticism and prejudiced intolerance since the cartoon was proposed by the American Freedom Defense Initiative, an organisation classified as an anti-Muslim hate group by the Southern Poverty Law Center. On May 3, the cartoon won the top prize at AFDI's "Drawing Mohammad" contest that exploded in violence in Garland, Texas.
Pamela Geller, founder of the American Freedom Defense Initiative, described the cartoon as "political opinion." "There is nothing violent in that cartoon," she said in an interview on Thursday. "If there is a group you cannot criticize … it's the tyranny of that group." "It is within the established American tradition of satire. If America surrenders on this point, the freedom of speech is a relic of history."

She called the subway authorities' decision an "end run" around the First Amendment.

It's not the first time the American Freedom Defense Initiative, has proposed controversial ads targetting Muslims. In April, a federal ruling cleared the way for a poster to be placed in New York City's transit system depicting a man with his face wrapped in a keffiyeh, next to the message "Killing Jews is Worship that draws us close to Allah." Another of their ads reads "In any war between the civilized man and the savage, support the civilized man. Support Israel. Defeat Jihad."

Edgar Hopida, the communications director for the Islamic Society of North America, said Geller's plan was an obvious provocation, and called the WMATA decision "very appropriate." "Pamella Gellar has made a career out of demonizing Islam and Muslims," Hopida told HuffPost. "She wants us to be second-class citizens."
Read more on The Huffington Post
---
Bangladesh bans Islamist group accused of blogger attacks. But it's not enough to protect non-believers and human rights advocates.
Bangladesh's move to outlaw the Ansarullah Bangla Team (ABT) comes after big protests from activists who have accused the authorities of failing to protect critics of religious bigotry. It is the 6th islamist group to be banned in the country.
But many of those under threat demand the banning of Jamaat-e-Islami, Bangladesh's largest Islamist party, although it denies any link to the murders.
Secular blogger Ananya Azad told he 'will be next' to die after the three writers hacked to death.
In the wake of the latest murder of Ananta Bijoy Das on 12 May, Mr Azad told the Guardian he received a threatening Facebook message saying: "You would be the next person. So be careful."

Ananya Azad's own father survived a machete attack in 2004 after he wrote a critique of fundamentalism and he is now being threatened for his own work.

"Anyone who has a critical view about religion is exposed," he said. "I probably have reduced my frequency of writing but my nature of writing has not changed." Speaking to the Associated Press in April, Mr Azad said he quit his job as a newspaper columnist and stopped writing blogs after receiving numerous threats but still posts critical comments on Facebook. Mr Azad was considering fleeing the country and said he spent much of his time indoors.

He is one of more than 80 people on a list of bloggers targeted for their criticism of religious intolerance and extremism in Bangladesh.
---
India: Punjab language department relaunches banned book, hurriedly withdraws order
The book 'Janam Sakhi Bhai Bala Da Paath-Parmanikaran Te Aalochnatmak Sampadan' by Dr Gurbachan Kaur was banned by the then Punjab government in 1987 after it noticed certain objectionable remarks against the first Sikh Guru in it.

Sources said after 27 years the language department in a bid to sell the remaining stock of the first edition (1,000 total print order) floated a proposal that the book can be sold by removing the pages that have objectionable content. The proposal was accepted and the book was distributed across the state.
But fearing backlash,  the department then withdrew the order.
Slamming the language department, former Deputy Speaker Bir Devinder Singh said: "The entire stock of this blasphemous book must be immediately confiscated and destroyed in full public view.  Our religious sentiments have been deeply hurt by this sacrilegious book".

He also demanded a case under Indian Penal Code section 295-A (deliberate and malicious acts, intended to outrage religious feelings or any class by insulting its religion or religious beliefs) against the language department.
---
Nigeria : Hundreds of youths protest in Kano against a Muslim cleric accused of blasphemy, and set fire to a sharia court 
Hundreds of youths ran through the streets of the northern Nigerian city of Kano shouting "Allahu Akbar" (God is greatest) on Friday to protest against a Muslim cleric accused of blasphemy, and set fire to a sharia court, police said.

The young men took to the streets around 10 am to demonstrate against Abdul Nyass, from the Tijani Muslim sect, who was due to appear in the Islamic court accused of comparing the leader of his group to the Prophet Mohammad (pbuh).

Part of the court was set on fire after a bonfire started by protesters caught hold of the building, although it was unclear whether this was deliberate.

"Hundreds of youths were involved. There was no damage, no injuries and nobody died as a result of this," Kano police spokesperson Magaji Majiya said by telephone, noting that the protest lasted just over an hour.

Members of different sects usually live peacefully side by side in predominantly Muslim Kano, the biggest city in the north of Africa's most populous country.
---
UK: former Archbishop of Canterbury Rowan Williams defends blasphemy as 'the language of protest'
Williams says blasphemy is not always an attack on faith, but involves testing beliefs and is often a valuable exercise.

He writes: "For most of human history – and for rather a lot of the world today – blasphemy is the cardinal case of saying the unsayable. What could be more transgressive than mocking or abusing the all-powerful creator of the universe? But what is interesting in the history of religions is that this isn't always about attacking or rejecting faith itself."

He also says that "If God is real, then presumably God can cope with anything we choose to throw at Him," adding: "If, worst of all, God is incompetent, sadistic or indifferent, the language of protest at least allows us to die with some integrity and dignity; we have – as Ajax and Job have obviously concluded – nothing to lose."
He says that blasphemy can express "faith of a sort" and that unless doubts and anger can be expressed freely, "the God you started with is not worth believing in". According to Williams, "If you are forbidden to voice the hard questions, this might suggest that faith survives only by never being challenged."

Williams concludes: "The secularist needs to understand some of the internal critique that faith is always struggling with; and the believer needs to recognise that blasphemy isn't necessarily a matter for panic, let alone violence. It may even be a gateway into a larger and more durable commitment."