The week in "blasphemy" news #9
This week, in Bangladesh another atheist blogger has been hacked to death by machete, due to his "anti-Islamic" writing, say the killers. In Kuwait, a TV presenter gets death threats, rape threats, and a police investigation over a video making jokes at the expense of extremists. Morocco may be increasing penalties for "blasphemy" convictions. In Russia, an opera director is fired by the Ministry for Culture, which denies doing the bidding of the Russian Orthodox Church, although it is obviously doing exactly that.
Kuwait has a plan to ban blasphemers from travelling to the country. There's Sikh-flavoured blasphemy in India because a new film about Guru Nanak depicts its subject, Guru Nanak. And a new queer Jesus shows the importance of "blasphemy" for minority voices within religious communities.
It's the ninth of our weekly round-ups of blasphemy news and views.
---
In Bangladesh, Washikur Rahman has become the second atheist blogger to be murdered by machete in the space of a month, after Avijit Roy was killed in March.
Two of Rahman's killers were captured at the scene, but a third assailant remains at large, and the two in custody say they were instructed to kill Rahman for his "anti-Islamic" writings, having never actually read the blogs themselves.
At least one of the madrassa that the two detained men said they attended have denied they were students, but we understand that the claim is weak and the madrassa may be protecting senior figures who may have instructed them.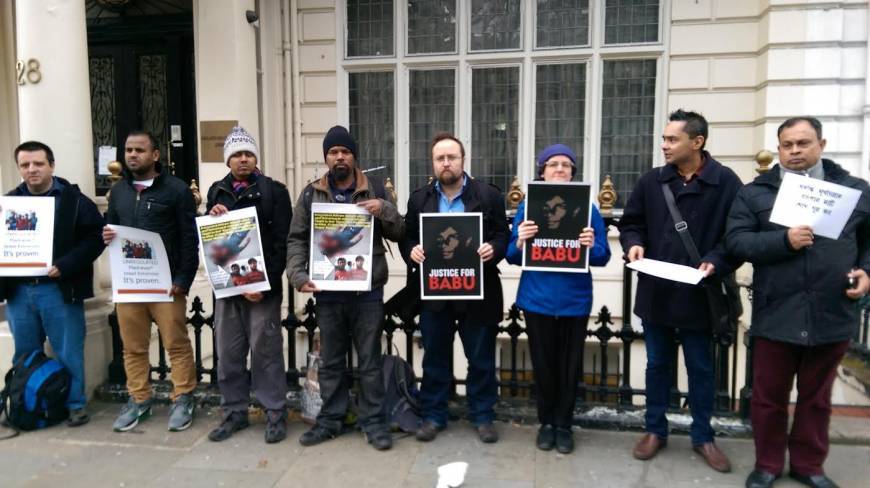 Our transnational partner the International Humanist and Ethical Union (IHEU) published some of Washiqur's writing, and joined a protest in London, Tuesday, alongside Bangladeshi expatriates at the High Commission. The protesters were calling for justice, after widely-held concerns about the apparent failure of police authorities in other cases; including  failure to intervene during the murder of Avijit Roy, and a two-year wait to indict the alleged killers of Ahmed Rajib Haider in similar circumstances in 2013.
Writing for the Independent, Rory Fenton was pessimistic about the prospects for the secular community in Bangladesh.
For many in Bangladesh, this is the crux of the matter. The target of these killings and crackdowns is not just atheism, but the very idea of questioning received wisdom and authority. Crackdowns on atheists began at a time of widely popular "Shahbag" protests in 2013. These were in response to the supposedly lenient sentences handed out to members of a radical Islamist party found guilty of war crimes. Most protesters, in a country with a 90 per cent Muslim population, were themselves Muslims. But they were accused of blasphemy. Their protests lead to counter protests, and calls from religious zealots for an anti-blasphemy death penalty.

Rather than target the Shahbag protestors directly, atheists provided a softer target for silencing dissent. For the government, who are eager to stem these counter protests, they are a small and politically cheap group. And by cracking down on them, they are able to placate Bangladesh's extremists.

…This weekend I arrived in Bangladesh with the naïve hope of writing about wide-eyed idealists fighting the fight no matter what, fuelled with the zeal of Je Suis Charlie. The reality on the ground is much harsher: atheists are being hunted down for both religious retribution and political gain. Washiqur Rahman was right: words cannot be killed. But a struggling movement can only take so much battering, and Bangladeshi atheism is fighting to survive.
---
As we reported last week, a satirical video in Malaysia — expressing concerns about the Pan-Malaysian Islamic Party (PAS), and it's plan to implement harsh 'hudud' laws in Kelantan state — had raised some complaints of "blasphemy". Now, there is a police investigation into the "blasphemy", as well as rape and death threats targeting the female presenter of the video, Aisyah Tajuddin.

The film shows Tajuddin:
---
There is a late-breaking report that Morocco may be set to increase penalties for "blasphemy". The new Penal Code draft law — which may also encompass longer sentences for rape and sexual harassment — may also be taking the retrograde step of increasing penalties against those convicted of "blasphemy".
Article 219 of the draft law provides for "imprisonment from one year to five years" against anyone guilty of "undermining," "offending", or "insulting" God and the prophets by any means.

Article 223 sets a conviction of six months to two years imprisonment for the perpetrators of vandalism of places of worship or sacred religious texts.
---
After an on-again-off-again relationship with video-sharing website Youtube, Pakistan is attempting to legislate to control Youtube "locally" in order to edit out "blasphemous content".
Earlier, Parliamentary Secretary Cabinet Division Raja Javed Akhlas informed the lower house that the government is proceeding for legislation in the light of the previous Supreme Court verdict.

"We are working on different options including the legislation to unblock the YouTube. We want to put in place a permanent system to keep check on blasphemous and obnoxious material on these websites," he said.
Meanwhile, a mentally-ill British man remains on death row in Pakistan for "blasphemy", leaving his family in Scotland desperate for action.
…Aamer Anwar, lawyer for Mohammad Asghar, a grandfather from Edinburgh, sentenced to death in Pakistan last January after being convicted of blasphemy for writing letters signing himself the Prophet Mohammed, said the family was suffering "extreme anguish" at the situation.

Four months before Mr Asghar's arrest in Rawalpindi in September 2010, the pensioner was sectioned under the Mental Health Act and diagnosed with paranoid schizophrenia at the Royal Victoria Hospital in Edinburgh. Despite the diagnosis, the Pakistani court ruled Mr Asghar, a British national, was sane.
A petition on change.org to save Asia Bibi, the Christian woman sentenced to death for "blasphemy" in Pakistan, has surpassed 500,000 signatures.
---
An editorial in the Daily Times of Pakistan captures an ongoing sense of loss and rage at the murder two weeks ago of Farkhunda in Afghanistan.
"The Af-Pak region as a whole has disintegrated abysmally  when it comes to its treatment of women. The ghastly daylight murder of a 28-year-old Kabul woman, Farkhunda, by a mob of savages in the Afghan capital city has set off a tidal wave of protests by women there, who are determined that Farkhunda's memory should not be murdered like her body was brutalised. According to reports, Farkhunda seemed to have gotten into an argument with a mullah at a shrine for trying to sell amulets to women. This minor tussle turned into a blood-soaked rampage when the cleric, angered at having been defied, whipped up a frenzied mob by claiming that the woman had burnt copies of the Quran. No investigation occurred, no saner heads prevailed and no humanity was witnessed when the crowd of men kicked her, beat her with wooden sticks, threw her from the roof of a nearby building after which a car ran over her dragging her body that was then set on fire. Such a morbid display of barbarism is hard to imagine, much less witness in broad daylight. Farkhunda, a religious studies scholar and Islamiat teacher, was trying to make the mullah aware of the fact that amulets were not a sign of religious devotion and that they had no place in Islam. For raising her voice, even for a rational debate, Farkhunda was condemned to a most gruesome death. It seems not much has changed for the women of Afghanistan."
---
The theatre director accused of "blasphemy" by the Russian Orthodox Church for his production of Wagner's Tannhauser, has apparently been "fired" by the state of Russia itself, in the form of the Minister for Culture. The ministry had stepped in after a provincial court threw out the church's legal complaint.
The director, Boris Mezdrich, had failed to apologize and to take other steps to mitigate the outcry among the Orthodox faithful offended by various aspects of the production at the Novosibirsk State Academic Opera and Ballet Theater, said Vladimir Aristarkhov, the deputy minister of culture, according to Interfax.

President Vladimir V. Putin has made the protection of "traditional values," including religious values, a pillar of his third term. In this case, Mr. Putin made his opinion known on March 23 when he awarded a state medal for "service to the homeland" to Aleksandr Novopashin, a priest in the Novosibirsk diocese who helped to lead the campaign against "Tannhauser."

… Vladimir Medinsky, the culture minister, denied that the Kremlin was the enforcement arm of the Russian Orthodox Church.
But it's increasingly clear that they are in bed together.
---
Kuwait is thinking about banning "blasphemers" from entering the country.
Under the proposal presented by lawmaker Abdul Rahman Al Jiran and discussed by the legal and legislative committee on Sunday, any person convicted of contempt of religions or penalised for derision of Islam, Islamic beliefs or the Prophet's (PBUH) companions or family members will be banned from entering Kuwait.

The proposal to amend the 1959 Alien Residence Law will have to be approved by the parliament and subsequently accepted by the government to become valid.

Kuwaiti authorities have had to deal with controversial religious figures who have tried to whip up sectarian passions with statements and stances targeting particular sects or their revered figures.
---
Dal Khalsa, an organization aiming to achieve an independent Sikh nation, Khalistan, in part of north-west India, has condemned as "blasphemous" an upcoming Hindi movie, Nanak Shah Fakir and threatened "trouble" comparable to the outcry of Salman Rushdie!
The movie is billed as "the first ever historic epic on Guru Nanak Dev Ji". Dal Khalsa objects because it portrays Guru Nanak "in human form".
In his strong-worded letter sent through e-mail to the producer of the film, Kanwar Pal Singh leader of the Dal Khalsa said by portraying Guru Nanak in human form–whether through computer graphics or through blurred images, "you are striking at the roots of our faith and that was simply intolerable".

The letter explains that the Sikhism was monotheistic in character, reveres the Shabad-Guru principle and believes in an omnipotent, omnipresent and formless God.

Sending stern warning to him, the letter stated that "If you are choosing to be a Salman Rushdie who wants to hide behind the veil of modernity and preach blasphemy, you are surely inviting trouble".The organization's spokesperson pointed out that Sikh tenets categorically, unambiguously and unmistakably prohibit the human portrayal of Sikh Gurus and their immediate family members in any form. "What you are about to do with the release of your movie is nothing short of blasphemy", he said and added that this would lead others to be more pernicious and wayward.

Sending stern warning to him, the letter stated that "If you are choosing to be a Salman Rushdie who wants to hide behind the veil of modernity and preach blasphemy, you are surely inviting trouble".
If that's piqued your blasphemous appetite, here's the trailer!
---
Last weekend, one of our affiliate partners, the UK's National Secular Society, awarded their annual Secularist of the Year award to the staff of Charlie Hebdo.
NSS president Terry Sanderson said: "Since the events of 7 January in Paris, Charlie Hebdo has become more than a magazine – it has become an ideal, a symbol of democracy, a rallying cry to those who value freedom and openness in public debate.

"The Charlie Hebdo horror has now joined the endless stream of other outrages committed in the name of Islam. The difference is that it prompted a commitment to free speech and secularism on the part of millions of people.

"Looked at objectively, blasphemy is a ridiculous concept, transparently invented to protect eminently arguable ideas from challenge.

"Ridiculous it may be, but it is also lethal.

"From the forty or so nominations that we received, there was one that could not be ignored, that was the obvious and only possible winner."

… Charlie Hebdo said it would donate the £5000 prize money for the award to the fund supporting the families of the murdered cartoonists.
---
In a new book, "The Passion of Christ: A Gay Vision," the Christian messiah arrives as a gay man in a modern city. The divine protagonist makes a "surprisingly diverse" variety of friends, but is then persecuted and killed. Christian author Kittredge Cherry blogs about the importance of what others brand "blasphemy" in creating new religious imagery especially for minority groups within religious communities.
The paintings and the new book that I wrote about them have been attacked as blasphemy by conservative Christians. But we refuse to concede Jesus to those who act like they own the copyright on Christ, then use him as a weapon to dominate others.

… Every group envisions Christ in their own image from their own context, and now there is a gay vision of Jesus, shaped by the political, economic and cultural forces of our time. LGBT people often identify with the hurt and humiliation that Jesus experienced on the cross.

… The queer Christ is intended to broaden, not limit, how Christ is perceived. Every image of Jesus is insufficient. It is valuable to have images of the "queer Christ" along with all the others to show that Christ is with all human beings in our full diversity.