The week in "blasphemy" news #4
Humanist blogger Avijit Roy murdered after he "insulted Islam" by writing about science and secularism in Bangladesh; a death sentence for apostasy over a "blasphemous" video clip in Saudi Arabia; book-burning and statue-smashing in Iraq under ISIS; and in Lebanon it's "Je Suis Charbel" as satire against ISIS is prosecuted as "insult to Islam".
Another Friday review of the past week in news related to "blasphemy" laws, accusations, and violence!
---
As we reported yesterday, Avijit Roy, the founder of Bangladeshi freethinking community blog Mukto-Mona, has been murdered in Bangladesh. His wife was also seriously injured in the machete attack, which took place as the couple left the famous (and often controversial) international book fair at Dhaka University.
Avijit Roy, a Bangaldeshi-American who was visiting Dhaka despite being the recipient of public threats by Islamist extremists, was a forthright, principled and thoughtful campaigner for secular, liberal values, for freedom, for reason and science. For this, as with many other secular writers and activists in Bangladesh, he was accused of "hurting religious sentiments" and "insulting Islam" by Islamists who in recent years have been calling for explicit anti-"blasphemy" laws and calling in mass marches for "death to atheist bloggers".
End Blasphemy Laws partners IHEU and CFI (US) have issued statements on the attack. The UK's Guardian newspaper reports:
Roy's father said the writer, a US citizen, had received a number of "threatening" emails and messages on social media from hardliners unhappy with his writing.

"He was a secular humanist and has written about ten books" including his most famous "Biswasher Virus" (Virus of Faith), his father Ajoy Roy told AFP.

… Roy's killing also triggered strong condemnation from his fellow writers and publishers, who lamented the growing religious conservatism and intolerance in Bangladesh.

"The attack on Roy and his wife Rafida Ahmed is outrageous. We strongly protest this attack and are deeply concerned about the safety of writers," Imran H. Sarker, head of an association for bloggers in Bangladesh, told AFP.

Pinaki Bhattacharya, a fellow blogger and friend of Roy, claimed one of the country's largest online book retailers was being openly threatened for selling Roy's books.

"In Bangladesh the easiest target is an atheist. An atheist can be attacked and murdered," he wrote on Facebook.

Atheist blogger Ahmed Rajib Haider was hacked to death in 2013 by members of a little known Islamist militant group, triggering nationwide protests by tens of thousands of secular activists.

After Haider's death, Bangladesh's hardline Islamist groups started to protest against other campaigning bloggers, calling a series of nationwide strikes to demand their execution, accusing them of blasphemy.

The secular government of Prime Minister Sheikh Hasina reacted by arresting some atheist bloggers.

The government also blocked about a dozen websites and blogs to stem the furore over blasphemy, as well as stepping up security for the bloggers.
The Dhaka Tribune further reports today that protesters have been demanding justice, and Avijit's father, Ajit Roy, has filed a murder case.
Avijit Roy is an irreplaceable loss to the South Asian freethinker community, a writer in his own right, and a generous supporter of the work of others.
---
Saudi Arabia has sentenced a man to death for apostasy, off the back of a blasphemy charge. Allegedly, the accused (whose name has been withheld from the press seemingly everywhere) was accused of posting a film of himself ripping up a copy of the Koran and hitting it with a shoe, and posting the video on a social network.
The UK's Telegraph, focusing on the awkward fact of a recent exchange of royal visits between the heirs to thrones of Saudi and the UK, translated a statement by an official:
""In the video he cursed God, Prophet Mohammed (peace be upon him) and his daughter Fatimah and ripped a copy of the Holy Qur'an and hit it with a shoe," the Saudi Gazette quoted an official as saying. "The death sentence was issued after his apostasy was proved.""
Vox has some good general political background on death-for-apostasy laws and the disastrous relationship between the house of Saud are hardline Islamic clerics. However, further information on the specific case is scarce; members of our coalition are working to try to get more.
Initial Arabic reports suggest this death sentence for apostasy – as in most cases – would be carried out by beheading, however the case is still open to appeal. There is a built-in opportunity to "repent" an act of apostasy, though this may have expired already. Executions in Saudi Arabia have been on an upturn in recent years and there are mixed signals of both relenting (for example the apparent suspension of the lashing of Raif Badawi and the release of Saoud al-Shammary) but also defiance of international criticism (for example the transfer of Raif's lawyer Waleed Abulkhair to a distant prison, and the continuation of beheadings by sword), so the outlook for this unnamed "apostate" remains very unclear.
---
While it continues to kidnap, rape, and butcher innocent human beings, the terrorist group ISIS has also turned its attention to "cultural cleansing", including the destruction of books it considers blasphemous and priceless ancient artifacts it considers "false idols". It was reported this week that they had ransacked Mosul public library, burning collections including its irreplaceable collection of around 8,000 rare books, as well as attacking a church and burning down a theatre in the Iraqi town.
"The former assistant director of the library Qusai All Faraj said that the Mosul Public Library was established in 1921, the same year that saw the birth of the modern Iraq. Among its lost collections were manuscripts from the eighteenth century, Syriac books printed in Iraq's first printing house in the nineteenth century, books from the Ottoman era, Iraqi newspapers from the early twentieth century and some old antiques like an astrolabe and sand glass used by ancient Arabs. The library had hosted the personal libraries of more than 100 notable families from Mosul over the last century.

"900 years ago, the books of the Arab philosopher Averroes were collected before his eyes…and burned. One of his students started crying while witnessing the burning. Averroes told him… the ideas have wings…but I cry today over our situation," said Rayan al-Hadidi, an activist and a blogger from Mosul. Al-Hadidi said that a state of anger and sorrow are dominating Mosul now."
---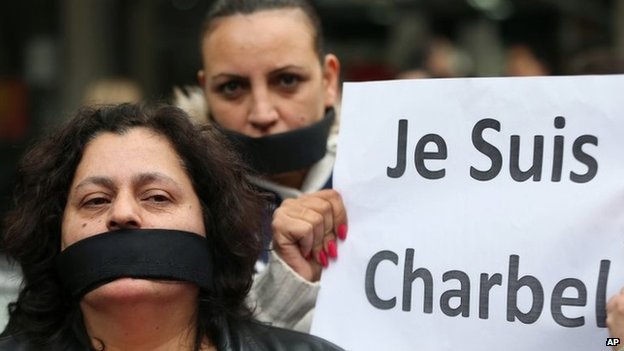 In Lebanon, supporters of freedom of expression are declaring "Je Suis Charbel", following accusations of blasphemy for a tweet apparently swiping at ISIS and its "sexual Jihad" (Jihad al-nikah).
The Lebanese Daily Star reported Monday that comedy TV producer Charbel Khalil remains free, to the relief of supporters, however his case has been referred "with recommendations that Khalil be charged and referred to the relevant judicial authorities for trial":
A group of friends, colleagues and supporters of Khalil gathered outside the court before the hearing to denounce the case filed against him.

Some of the protesters stood with a black ribbon tied around their mouths to signify censorship, while others held signs reading "Je Suis Charbel," or "I am Charbel."

… Lebanon's Grand Mufti Abdel-Latif Derian accused Khalil last week of defaming Islam in a Twitter post…, urging Justice Minister Ashraf Rifi to take action… Lebanese lawyer Tarek Shandab, representing 70 religious and civic figures, filed a lawsuit against Khalil, accusing him of insulting Islam and harming national unity.

Khalil, in turn, denounced Shandab as a liar, accusing him of giving false information to The Daily Star about the content of the picture.

…a judicial source told The Daily Star that Shandab's lawsuit against Khalil alleged that the producer defamed Islam by sharing a picture showing a bearded man and a woman naked on a bed covered by the Islamic banner.

A comment posted under the purported photo read: "Jihad Niqah (sexual jihad) under the Prophet's umbrella," according to the judicial source, citing the lawsuit.

The Daily Star has not seen the picture, and the judicial source when contacted by The Daily Star Monday also said he has not seen the photo.
Indeed, End Blasphemy Laws has tried to find the reported image without success as yet.
Charbel is quoted as saying after the referral: (translated from the French) "I want to thank all those who came here in solidarity with me. The law is the strongest, I did not lie (…) I am convinced that the Mufti has not seen the picture when decided to press charges against me."
---
Reflecting a similar role created recently by the Canadian government, the United States has appointed a new Ambassador-at-Large for Religious Freedom, David Saperstein. The job title, unfortunately, eschews the more inclusive "religion or belief" formulation of the international human rights framework, and John Kerry's introduction partially appeared to misunderstand the point of the right to freedom of religion or belief, confusing it with an obligation to promote religion in general ("We also wanted someone, quite frankly, who wouldn't be shy in speaking up for religion"). Nevertheless, Saperstein's stance on freedom of religion or belief seems sound, he has previously tweeted about the use of "blasphemy" laws to restrict free speech, and most importantly for our purposes here, he committed the United States to working toward the abolition of "blasphemy" laws. The first of his five priorities, he said, was:
"To use this position fervently; to advocate for freedom of thought, conscience, and belief; for the rights of individuals to practice, choose and change their faith safely; not only living their faith through worship, but through teaching, preaching, practice, and observance; as well as the right to hold no religious beliefs; and consequently, to seek strongly an end to blasphemy and apostasy laws."
(NB: The transcript at the link says "anti-blasphemy and apostasy laws" where it should say "an end to blasphemy and apostasy laws", but he does say the latter in the video!)
---
In Pakistan, following last week's Jamaat-e-Islami call for international death-for-apostasy laws, there was another call on Monday this time from the Pakistan Ulema Council (PUC) to leverage (from abroad) European "blasphemy" laws, and again to revive the OIC push to get a binding international resolution against "hurting religious sentiments" or similar, via the United Nations. (In terms of the likelihood of forcing states to enact an international law against blasphemy, this should largely be regarded as entirely impotent political gesturing, of course; and the last major OIC drive to pass a binding "defamation against religion" resolution at the UN floundered in 2011. However it should be recalled that for several years the UN Human Rights Council and even the General Assembly passed various OIC-sponsored resolutions condemning "defamation of religions" which were criticized strongly by human rights groups including members of our coalition.)
---
From Kashmir, there were one or two brief mentions of what seems to have been a short-lived panic about a "handwritten" poster which supposedly "insulted Prophet Muhammad" and was quickly taken away by police who promised "immediate action… to nab the miscreant soon".
---
Dr Haider Shah of the Rationalist Society of Pakistan in Pakistan's Daily Times laments consistent government failures on "blasphemy" laws:
"Extremism manifests itself in many ways. Our emotional attachment with the issue of blasphemy is a very potent form of extremism in Pakistani society. The essence of blasphemy is in the fact that opinions are silenced by threats of violence. In Pakistan we can identify three forms of blasphemy that are often associated with actual physical violence. First, the most commonly known is religious blasphemy where anyone can be accused of disrespecting a holy personality of the Muslims. Second is if the military establishment feels offended by any statement or accusation. Third is if family honour, often closely linked with females, is thought to be attacked.

Blasphemy laws, introduced by an army dictator decades ago, and which discriminate between holy personalities of different faith communities in the country, and hence are ultra vires [they exceed the powers] of the fundamental rights guaranteed by the Constitution, are still a no-go area for the so-called sovereign parliament of the country. Those who are arrested under allegations of blasphemy cannot find a lawyer to defend them in a court of law but, on the other hand, recently a procession led by a team of 90 lawyers, which included former judges of superior courts, volunteered to defend a convicted murderer, Mumtaz Qadri. Interestingly, the Islamabad High Court (IHC) heard the appeal case after a delay of three years as no judge was reportedly interested in hearing the case.

… Is it not ironic to the point of comedy that YouTube is free in Mecca and Medina but banned in Islamabad and Karachi? By retaining such regressive bans on the one hand and declaring a war on jihadi outfits on the other, the government is sending confused signals."
---
Via Alber Saber, another Egyptian famously accused of "blasphemy" in recent years, there's a summary of the allegations against Sherif Gaber (or Sharif Jaber) in Arabic, with a rough English translation. He is accused of making postings and running an atheist Facebook group.
There's also a petition and more information at change.org.
---
And, the French actress, entertainer and fashion icon Brigitte Bardot has featured in media comment this week, both for rescuing a pair of alcoholic Russian bears, and more pertinently for previous convictions for "inciting racial hatred", or as Breitbart put it, "blasphemy against Muslims". Our campaign does not target laws which genuinely prohibit only incitement to hatred or violence, but the Bardot prosecutions, the latest of which was in 2008, raised questions then and now, about the application of anti-hate laws, whether they are applied consistently for different alleged target groups, and where the lines fall between comments that are xenophobic, nationalist or even racist, and comments which constitute "incitement to hatred" or even violence. Of particular interest re "blasphemy" is that a significant part of the evidence in the first cases against Bardot related to comments she made about specific practices and beliefs around the halal slaughter of animals, and the problematic inclusion of this criticism in hearings which also discussed wider comments on "racial mixing" and "the Islamisation of France".
---
Three partners in our International Coalition Against Blasphemy Laws, the European Humanist Federation, International Humanist and Ethical Union, and National Secular Society (UK), spoke in Brussels on Wednesday at the European Parliament Platform for Secularism in Politics (EPPSP), criticising all laws which restrict freedom of expression on religion or belief, calling for the end to extant "blasphemy" laws in Europe, and drawing attention to the threats of self-censorship even where formal blasphemy laws do not exist.